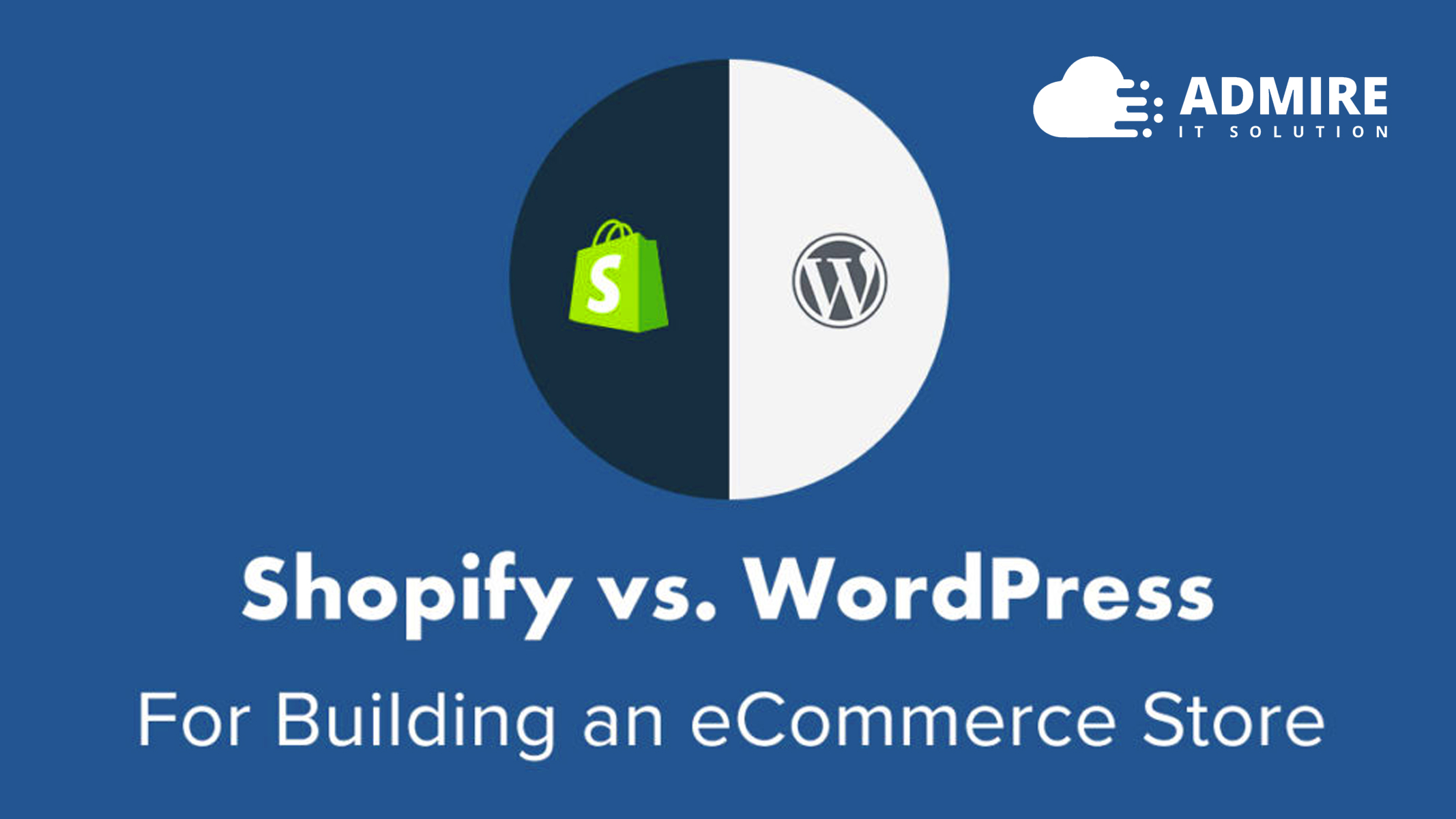 01 Dec

Shopify vs. WordPress (WooCommerce) for e-commerce?
Shopify vs WordPress:
Which is the best? This is a question that many startups find asking themselves, and in this post, I am telling it deeply!
Read further for the full test of both platforms and their key features, and the reason is that when you create an e-commerce website you can choose one of them.
Let's discuss the difference between the two.
Define Shopify:
Shopify is a web application designed specifically to allow merchants to build and launch their own online store.
It provides a variety of templates that can be adapted to meet the branding requirements of individual businesses, and it allows both physical and digital goods to be sold.
One of the basic ideas behind Shopify is that without technical or design skills, users can make a store themselves, without resorting to coding. However, Shopify also allows you to edit your website's HTML and CSS, which means that those who have coding skills will be able to customize their store more extensively.
What is WordPress?
Two different versions of WordPress are available:
1) Hosted Word Press
2) Self-hosted Word Press
Hosted Word Press
Hosted Word press is available on wordpress.com – like Shopify, which is a software in the form of service (SaaS) tool. You pay a monthly fee and you get many kinds of features that enable you to create and maintain a website.
However, compared to Shopify it is less than a 'solution' in all because users need to use third-party tools like Ecwid (or actually Shopify!) to add e-commerce features.
Self-hosted WordPress:
A piece of self-hosted WordPress software that you download from wordpress.org and then installs on your own web server. This is open-source, which means that the code behind it is freely available and can be easily obtained.
You can install WordPress on your server for free, but considering hosting costs, domain registration fees, and potential plugin/development costs. We will later discuss this post more deeply.
This Shopify versus WordPress comparison is going to focus on the version of WordPress that most people use: self-hosted version.
Which is better Shopify or WordPress?
WordPress is indisputably a better-established and more flexible platform than Shopify. Great username and a lot of selection of theme and apps have been selected to pick it up; and when given the right skills and resources, you can basically build any type of website that you prefer with WordPress.
If content production and management is a matter of concern for you – for example, if you want to run a sophisticated magazine site with a store on the side – a lot can be said to go on the WordPress route. Its blogging functionality, content collection and content management systems are much more flexible and sophisticated than those offered in Shopify's offerings in these areas.
In some ways, it is quite possible to say that WordPress also has an edge in the SEO department: The fact that you can use Yoast, you can choose your own server and create a cleaner URL for your content, Gives an edge on Shopify.
But in many contexts, Shopify will simply fulfill the needs of e-commerce users. This is because it is a tool designed specifically to create an online store, and it does a great job for it.
Additionally, if you use Shopify, you will get support; Relative peace of mind around security; and you do not have to worry about the technical aspects of maintaining your website.
Finally, if you are new to the world of website creation and are determined to build your online store, then I argue that Shopify is the easiest, secure and fastest bet. A stator learning curve is included with WordPress, and more to do so (especially on an e-commerce site).
If you have a good budget and a good developer, you might find that you will find something better with WordPress; Site that is 'bespoke' in nature that is more accurate for your needs. Ultimately, if you are going on a DIY route, then my hump is that you will probably get better results with Shopify.